Excursions
Company Visits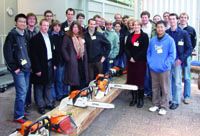 During this one- or two- day long event you will visit a company and learn more about it on site. The personal setting enables the direct conversational exchange with the company representatives.
At first, a company representative will present the company in a short presentation and will inform about possible fields of work and action.Following this, you will be given a factory tour during which you will gain interesting insight into different departments and internal operations.
Furthermore, some companies offer trainings or case studies for you.
Industry fair visits
bonding offers you free visits of major industry fairs. We will take care of transportation and the tickets. In addition, some exibitors offer interesting tours of their exhibit.
Industry fairs we've visited:
CeBIT
Hannover Messe
IAA
IAA Nutzfahrzeuge
ILA
Paris Air Show