bonding IndustryNight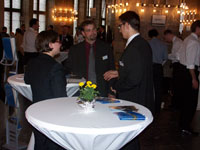 A bonding IndustryNight is a smaller job fair which provides - compared to a bonding job fair - both a more formal and personal atmosphere, thus enabling intensive information exchange between students and company representatives.
To achieve the first goal, the IndustryNight takes place in the evening in a formal environment.
The second one is accomplished by both limiting the number of participating companies to about 30 and chosing the attending students before the event based on their letters of motivation.