bonding job fairs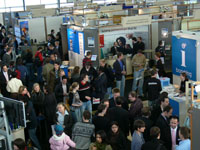 Each of our eleven local groups organizes a Job Fair once a year. While each group organizes their Job Fair on their own, they are supported by other groups with knowledge and experience.
During the Job Fair bonding members from all over Germany meet in the organizing city to work together with the local group on the event itself to provide the high level of service to both students and companies that constitutes a bonding Job Fair.
After the hard work, relaxation is also an important part and is accounted for with the evening event: A dinner in a casual atmosphere where bonding members and company representatives conclude a successful day and strengthen their contacts.