Get active and join us!
bonding means important soft skills, useful contacts and a lot of fun. With us you can escape from the uninspiring theory and gain much practical experience for yourself.
What is my job at bonding?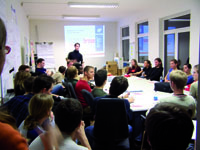 Finances, IT or PR - there is also something for you! Right from the start you will work in a team and get the chance to implement your own ideas. Together we can even organize major projects like the bonding Job Fair.
You have never done this before?
That doesn't matter - there is always a first time! Nobody will let you down. There are always seasoned bondings who will help you with words and deeds. You will benefit from the experience exchange but at the same time you can bring in your own ideas and let your creativity play free. That's how new projects and ideas are born.
Internal Training System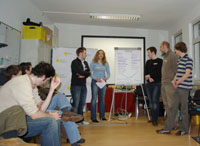 Additionally as a bonding member you will benefit from our advanced training system. These trainings will practice important key skills like project management, conflict management, communication and the exposure with software like Microsoft Office or Adobe Creative Suite. Our trainers are either active members or alumni who are keen to pass their knowledge to the "next generation".
National network
Because bonding operates across Germany you get the chance to get in contact with bondings from every local group. Especially the annual job fairs will offer you a chance to travel all across Germany to help out.
How can I join bonding?
Nothing could be easier! Just join our weekly meeting where we discuss and organize our current projects and new ideas. Everybody is welcome. Alternatively you can visit one of our regularly info meetings.